YOUR TATTOO ART STUDIO IN MÜNSTER
Only by prior arrangement. Please get in touch via phone, mail or Whatsapp!
​
0174 1734 819
​
English Site: Opening Hours
At Fancy Pain Tattoo i work directly with you to create body art based on your input, but I also provide guidance and artistic vision for the process.
​
What makes Fancy Pain special is not only the body art I am creating for you. It is the special trust I am building with you. Here you don't find mass processing. You are the focus of attention and only your satisfaction is what counts.
​
Fancy pain provides maximum quality, strong hygiene standards, detailed consultation and the highest artistic level.
Make the tattoo of your dreams come true. Get in touch!
Janine L. (Google-Review)


"Got my best tattoo there. Very happy to have found her. Very clean and nice work. Just like I wished. Will come again. Highly recommended."
THE UNIQUE TATTOO STUDIO IN MÜNSTER
Fancy Pain Tattoo is a special tattoo studio in Münster Germany. The private, comfortable and relaxing atmosphere mixed with the exceptional customer service and complete focus on your needs makes it a unique place in our city. Come and find out yourself!
Want some ink that will set you apart from the crowd? Let me design you a unique Tattoo or come with your own idea. I studied art extensively and have a vast array of mastered styles. With Fancy Pain Tattoo, you're guaranteed an original tattoo that will keep you happy for the rest of your life.
Let me create a fresh tattoo for you exactly where you want it.  I look forward to earning your trust and creating a beautiful sleeve tattoo for you.
TATTOO AFTERCARE INSTRUCTIONS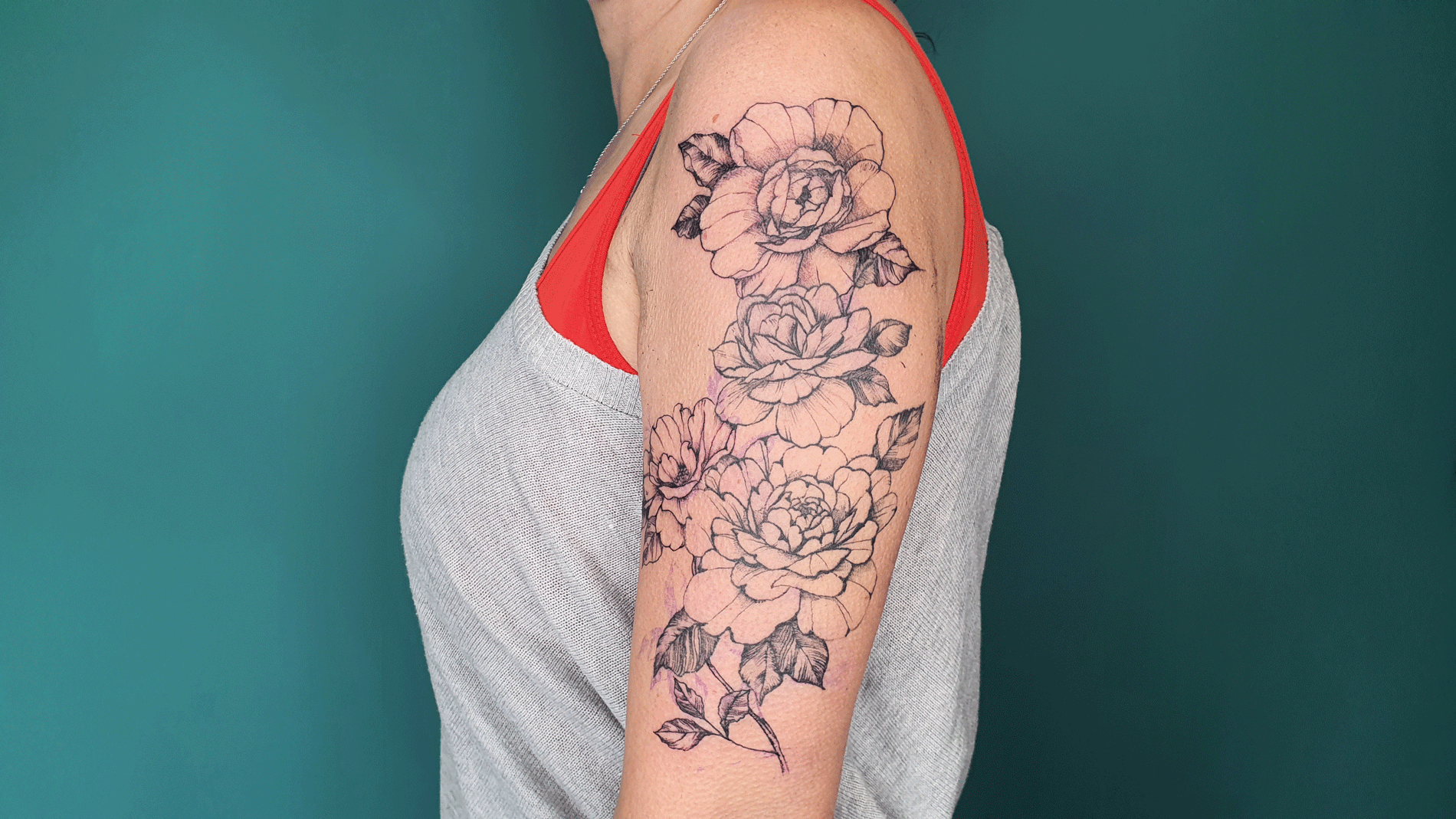 English Site: Tattoo Services
Eva D. (Facebook-Review)


"Sharon makes the tattoos with patience in a very clean, pleasant and familial atmosphere. I am impressed - from the first design untill the final tattoo, everything just great. Will definitely come back next time!!! Thanks Sharon"
Crow Sketch Style
Crow Sketch Style
Octopus Seaman
Octopus Seaman
Maori Tattoo Chest
Maori Tattoo Chest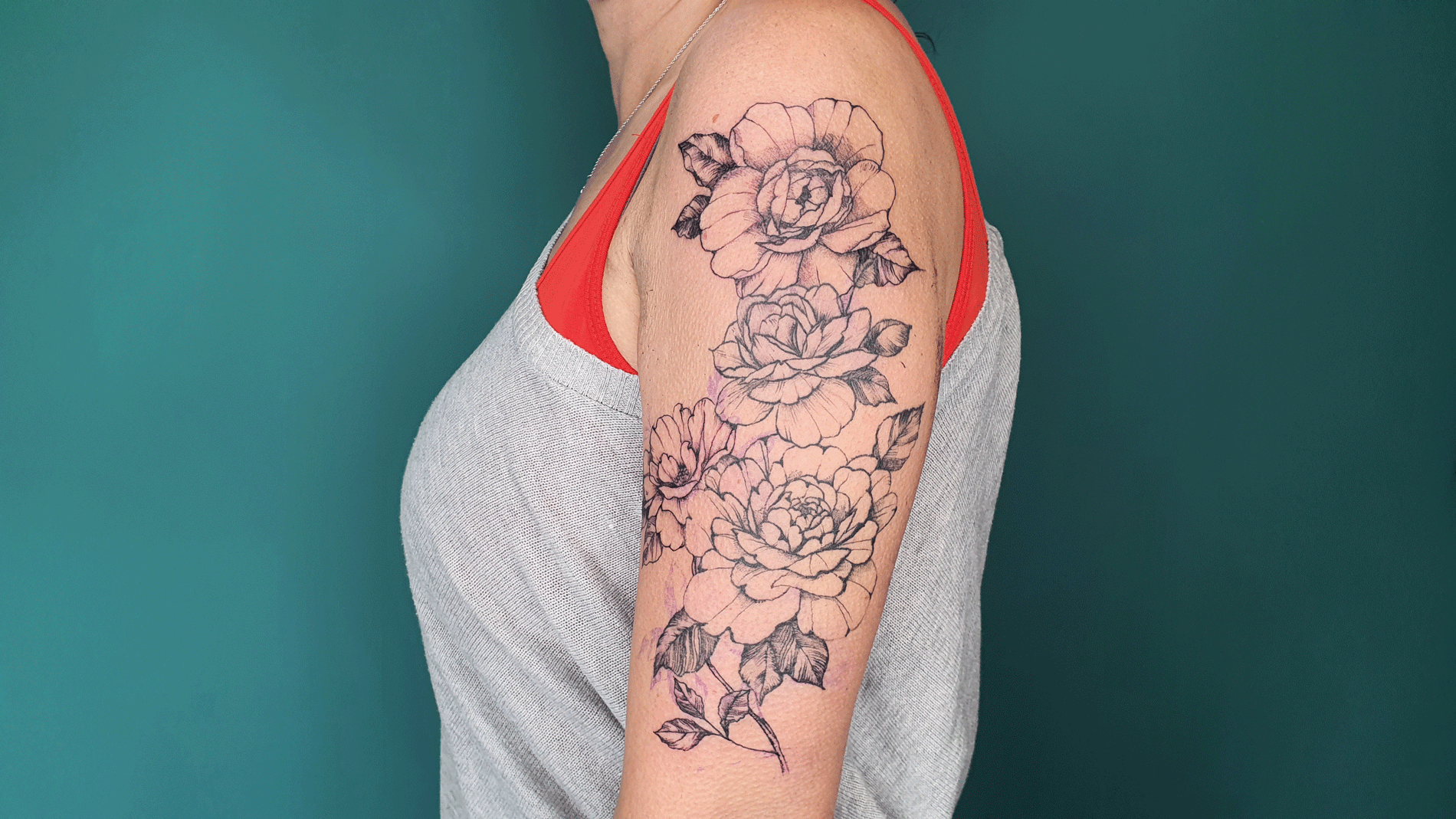 Astronaut Tattoo on scar
Astronaut Tattoo on scar
Bull Tattoo geometric
Bull Tattoo geometric
Mandala Arrow
Mandala Arrow
Lace Dekolleté
Lace Dekolleté
Flowers Arm 2
Flowers Arm 2
Delicate flower Tattoo
Delicate flower Tattoo
Blumen & Colibri
Blumen & Colibri
Meerjungfrau Skelett
Meerjungfrau Skelett
Blumen Sleeve
Blumen Sleeve
Blumen Sleeve
Blumen Sleeve
Blumen Sleeve
Blumen Sleeve
Schlafender Wolf
Schlafender Wolf
Fancy Pain Tattoo Affe
Fancy Pain Tattoo Affe
Schmetterling & Biene
Schmetterling & Biene
Old School Girl
Old School Girl
Wolf Owl Deer
Wolf Owl Deer
Lighthouse tattoo coverup
Lighthouse tattoo coverup
Flowers Tattoo Coverup
Flowers Tattoo Coverup